Nana's Manners
The Story Behind the Blue Haired Guardian of Good Table Manners and her Award Winning Ergonomic Children's Cutlery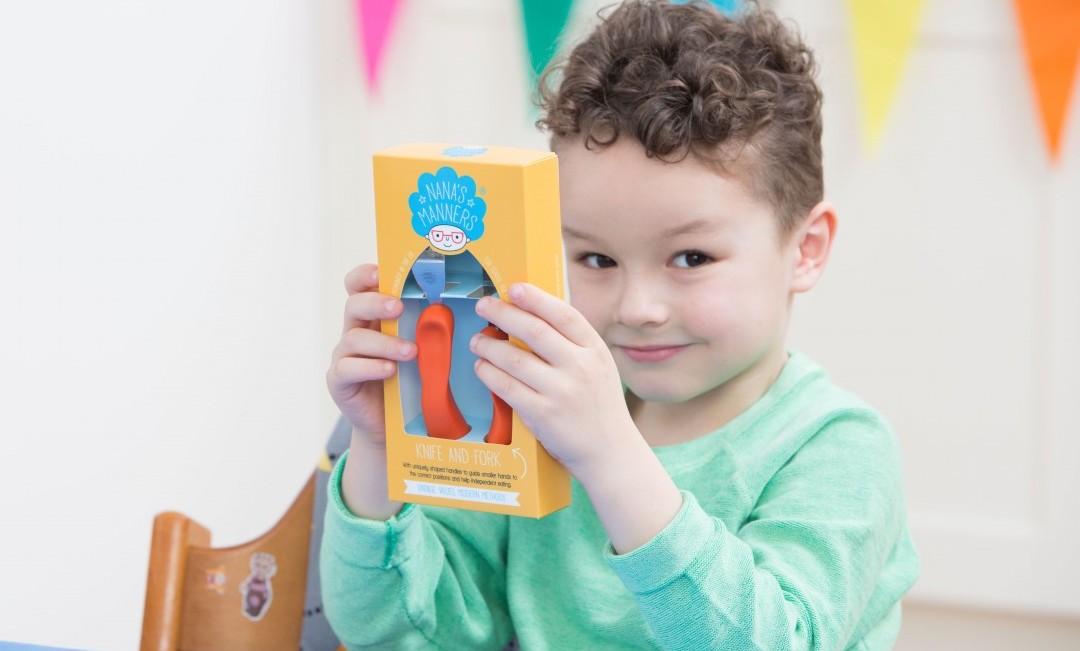 From concept
The concept of Nana's Manners was born when its founder Kathryn Baldrey-Chourio returned to her job as a Primary School teacher following maternity leave after the birth of her son.  She found herself teaching the Reception class for the first time, at the same time the coalition government had just rolled out Nick Clegg's plan to give free school meals to all key stage one pupils at lunchtime. A massive investment in the provision of school kitchens now meant that many four year old children in the country were sitting down to a hot meal every day.
What really struck Kathryn was that the majority of the children in her class had very little idea of how to hold and use a knife and fork. She noted that perhaps one or two out of a class of thirty were able to use the cutlery properly. "Roast dinner Wednesdays were the worst" she says, "I used to see a lot of meat lollipops, which involved spearing the meat with the fork, holding it up and eating around the meat in a circle."
Good table manners had always been important in Kathryn's family. Her Mum, the inspiration for Nana, for many years had commented on the inadequacy of children's cutlery available to buy. A few years previously, when Kathryn's daughter was younger she recalled that she had never been able to find any great children's cutlery to assist with independent eating. Now several years on she researched with renewed interest and discovered that nothing new or inspiring was available to buy.
to solution
Never one to let a problem get the better of her, Kathryn decided that if it didn't exist she would design it herself.  Coming home from work one day she announced her idea to her husband, Chris and began searching around for some suitable modelling material. She came across some Crayola modelling clay in her cupboard and with this she sculpted her first prototype handles. They were based upon the principle that the handles should be shaped, so that holding them in the correct position becomes completely intuitive and comfortable.  A more ergonomic design would therefore make it much easier for small children, whose dexterity is still developing to use the cutlery effectively and with greater ease and independence.
After much refinement of her clay models Kathryn and Chris decided to pursue her idea and had some 3D visuals and basic 3D CAD models drawn up. She also teamed up with graphic designer and illustrator Kate Larsen from Box of Birds. Together they came up with the concept and images for both Nana and a cheeky orangutan, who needed to learn some table manners. She was also advised to protect her intellectual property with a patent (now granted), to register her design, and to copyright the Nana's Manner's logo which was to become an important part of the brand.
The next stage of the process was to refine and develop the clay models and turn them into some working prototypes. The complex 3D organic shapes of each handle were proving difficult to replicate.  At this point Industrial Designer, Jonathan Beadle from Radian Design became involved and worked closely with Kathryn to turn her ideas into fully detailed 3D CAD models using PTC Creo software. Jonathan had previously worked extensively on recreating classic car body shapes for replica Scalextric cars with PTC Creo ISDX. The principle was similar, the interpretation of 3D sculptural forms and their translation into complex 3D CAD data from which prototypes and tooling can be generated. Kathryn and Jonathan worked together, creating many 3D printed models along the way, until both were happy with the handle shapes. Kathryn was able to test these 3D prints with children, taking on feedback to refine the shape as they went along. From the resulting 3D CAD files several working prototypes were made by vacuum casting the handles, a process used for small production runs where a silicone mould is used to create polyurethane parts. The stainless steel parts of the knife and fork were machined from solid material for the prototypes. These working prototypes were used to introduce the idea in schools and to parents and prospective buyers. The design and development of the packaging was also a crucial part of the process. Kathryn had realised early on how critical its visual on-shelf impact would be to generating sales. Jonathan collaborated with Kate Larsen on the design of the structural packaging and the crucial graphics and branding for the box. Several prototype boxes were made before final printed samples were produced.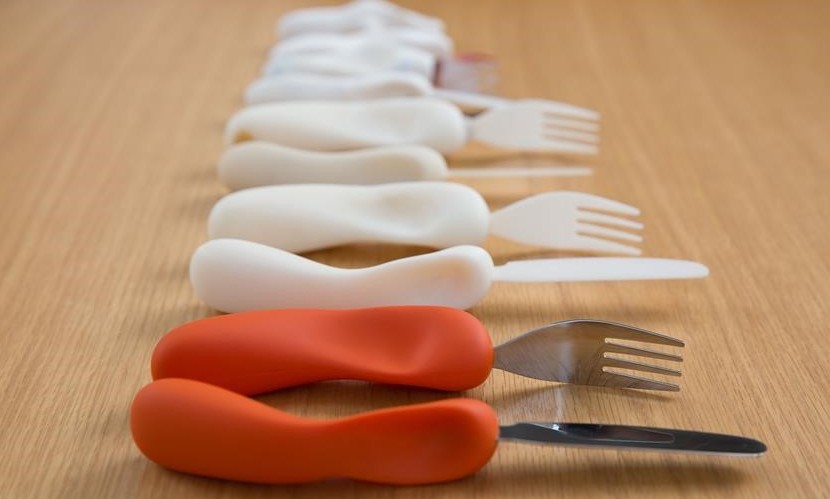 to market
Encouraged by the enthusiastic reception and feedback she received for her innovative cutlery, the feasibility and cost of manufacturing needed to be considered. Kathryn had already done her homework with respect to competition, pricing strategy and likely market share so she knew what her manufacturing costs should be. A lengthy search began to find a UK or European manufacturing partner. It soon became apparent that the production of the stainless steel flatware components of the knife and fork in the UK or Europe would become the sticking point, with sky high tooling costs, unaffordable for a start-up business.  At this point Mike Callow of MCA Int. Plastics got involved. Mike helps UK businesses source manufacturing in the far east and had previously sourced cutlery for other clients in China. He proved to be the link Kathryn needed to get her cutlery into production.
The Nana's Manners team worked incredibly hard on developing their brand, marketing and PR strategy prior to the launch of their product on crowdfunder Indiegogo.  The start of 2017 saw the arrival of their first cutlery shipment.
to scooping up the awards
Since it's launch Kathryn's cutlery has been scooping up the awards. It won the Best Children's Tableware category of the Junior Awards 2016 and just recently a Made for Mum's award. Some great feedback has come too from on-line reviews and bloggers, with a resounding thumbs up from the users!